WSDL (Web Services Description Language) Editor
Editing WSDL files
The WSDL files contain information about the published services, like the name, the message types and the service bindings. The editor is offering a way to edit the WSDL files that is similar to edit XML, the content completion being driven by a mix of the WSDL and SOAP Schema.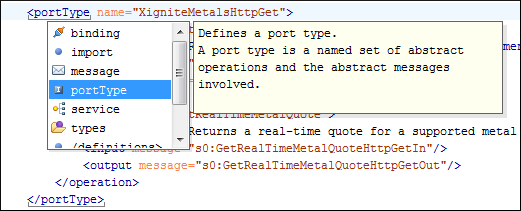 Validation of WSDL files
While editing the Web-Services descriptors you can check their conformance to the WSDL and SOAP schema. You do not need to specify the schema location for the WSDL standard namespaces. In the following example you can see how the errors are reported.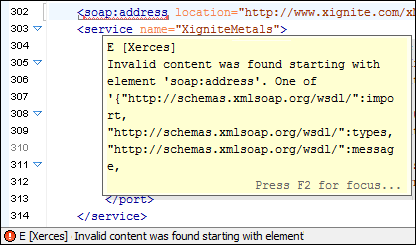 Analysing and testing WSDL files
After defining the descriptor you can check it to see if the defined messages are accepted by the Web Services server. <oXygen/> is providing two ways of testing, one for the currently edited WSDL file and other for the remote WSDL files that are published on a web server.
Testing of a WSDL file is straight-forward, you just have to click on the WSDL analysis button, then select the service, the port and the operation. The editor will generate the skeleton for the request. You can edit the request, eventually attach files to it and send it to the server. Watch the server's response in the response area.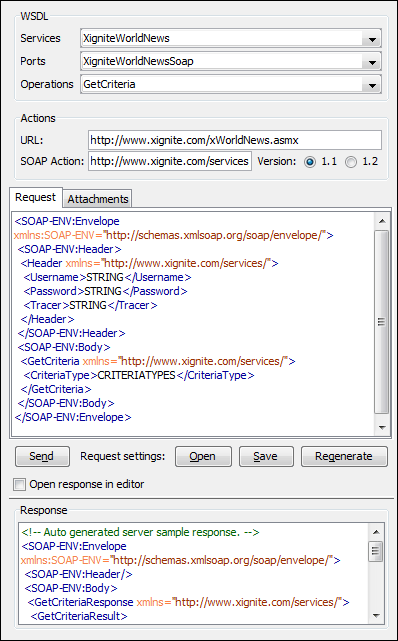 The analyser dialog is docked in the editor user interface. You can move it wherever you consider to be handier. The requests are associated with the port numbers, so if you change the port, the request for that port is set into the analyser. Both the request and the response can be pretty-printed using an action from the contextual menu.
Saving of WSDL SOAP Requests
Once defined a request derived from a Web Service descriptor you can save it and reuse it later. This way you will save the time in configuring the URLs and parameters.
Open Web Service Call Result in the Editor
You can choose to open the result of a Web Service call in the editor. This way you can save it or process it further.

HTML Documentation for WSDL Files
You can generate a brief documentation listing the services, bindings, port types and messages defined in the WSDL file.