XML Editor
The XML Editor in oXygen is a complete XML development platform with support for all major XML related standards. An XML file can be edited in the following perspectives: XML text editor, WYSIWYG-like editor, XML grid editor, tree editor.
data sheet
flyer
XML Text Editor
The text editing mode offers full control on the XML file content to the XML developer. The context sensitive content assistant coupled with automatic validation help you keep the edited file valid all the time.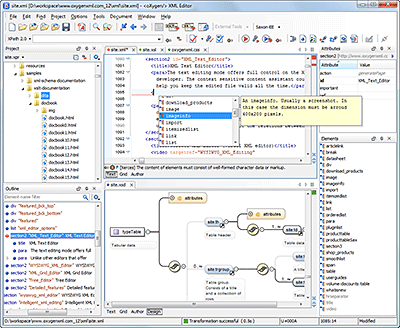 Unlike other editors that offer all the available entries, the content assistant of <oXygen/> XML Editor shows only those entries which are valid in the current editing context. In this way the XML document is kept valid most of the time and the user does not have to know about the relations between elements.
WYSIWYG XML Editor (Visual XML editor)
The Author mode of the <oXygen/> XML Editor demonstrates a new productive way of authoring XML documents by non technical authors, similar to a word processor.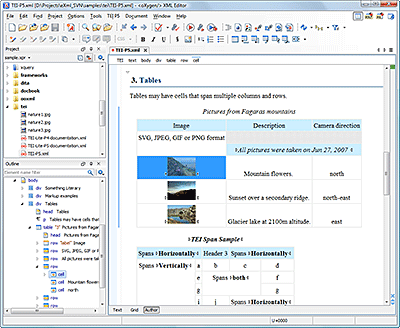 This editing mode makes XML document authoring easier than using an unstructured word processing application. The author's focus is on the semantics of the XML content while the formatting and layout is performed automatically by <oXygen/> XML Author, is driven by a CSS stylesheet and is supported by user actions specific for the current document type.
XML Grid Editor
The <oXygen/> XML Grid Editor allows the repetitive XML content to be edited in a table-like fashion, similar to a spreadsheet application. This editor provides table oriented operations like row and column addition and deletion and table sorting. You can organize your XML documents by moving nodes around using drag and drop.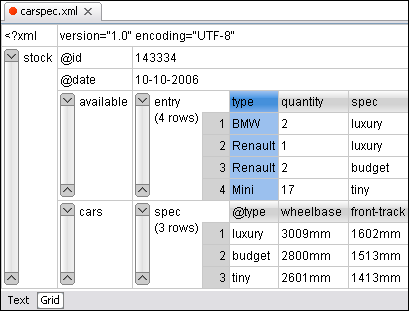 There are two layouts available in the grid editor: the grid layout (tries to find and group the recurring elements in tables) and the tree layout (shows directly the structure of the XML document).
Tree Editor
XML documents can be viewed/edited in a graphical tree. The tree editor is a great help when you are working with very large documents because of its small memory footprint.
For a fast navigation in the document you can use the top navigation panel which is always synchronized with the current path in the document. Each button from the panel gives access to all the XML nodes at the same level.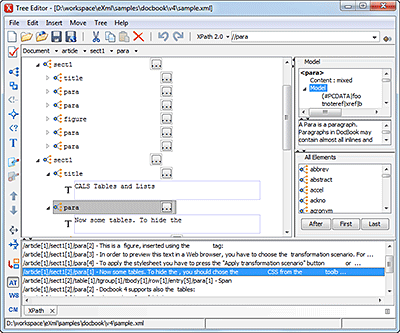 The Model View shows the detailed information about the element or attribute that you are working on. Element and attributes annotations are also presented here if they are available in the XML Schema of the document.
Detailed features
Send Feedback About This Page
Email (optional):

Please provide an email address if you would like a response to your feedback. We do not disclose your email address to any third parties.