Helper Views
Model View Panel
The Model View panel, located on the left-hand side of the main editor window, eases the editing effort by presenting the structure of the currently edited tag and additional tag documentation.
We have annotated the schemas for XSLT stylesheets, XML Schemas, DocBook, Formatting Objects and others so you can benefit immediately of the element documentation. If you are learning XSLT or you are not sure about the meaning of an element or attribute, just click it and read the description!
The Model View, combined with the powerful Outline is an useful tool in providing you with the insight information of the edited document.
The Element Structure View shows the structure of the current edited or selected tag in a Tree format.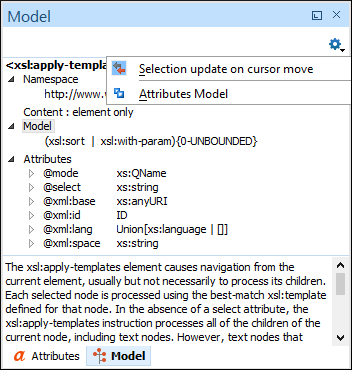 The information includes the name, model and attributes the currently edited XML element may have. The allowed attributes are shown along with any restrictions they might possess.
The Annotation View shows the annotations that are available for the currently edited or selected element. We have extended this support to documents that make use of DTDs. If there are comments in front of the element declaration these will be shown in the model view. Check the content completion options to enable this feature.

The annotation information is displayed as a tooltip when moving the mouse pointer over an element in the XML source.
Elements View
Shows the XML elements defined by the schema that can be inserted at the current position in the document.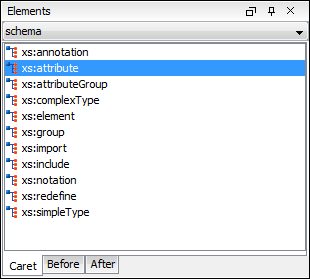 You can insert an element by clicking on its label.
When editing in the Author visual editing mode you can add elements before or after the element where the caret is located.
Entities View
Shows the defined XML entities. You can insert an entity by clicking on its label.