2020

21.1

Version 21.1 - May 23, 2019

21

Version 21.0 - February 22, 2019

2019

20.1

Version 20.1 - June 15, 2018

20

Version 20.0 - March 16, 2018

2018

19

Version 19.1 - September 29, 2017
Version 19.0 - April 5, 2017


2017

18

Version 18.1 - October 18, 2016
Version 18.0 - April 21, 2016


2016

17

Version 17.1 - October 20, 2015
Version 17.0 - May 5, 2015


2015

16

Version 16.1 - October 7, 2014
Version 16.0 - May 20, 2014


2014

15

Version 15.2 - January 22, 2014
Version 15.1 - October 7, 2013
Version 15.0 - June 7, 2013


2013

14

Version 14.2 - February 13, 2013
Version 14.1 - October 19, 2012
Version 14.0 - June 27, 2012


2012

13

Version 13.2 - January 12, 2012
Version 13.1 - October 26, 2011
Version 13.0 - August 29, 2011


2011

12

Version 12.2 - May 19, 2011
Version 12.1 - January 12, 2011
Version 12.0 - September 14, 2010


2010

11

Version 11.2 - March 16, 2010
Version 11.1 - December 17, 2009
Version 11.0 - October 9, 2009


2009

10

Version 10.3 - June 29, 2009
Version 10.2 - April 15, 2009
Version 10.1 - February 25, 2009
Version 10.0 - October 23, 2008


2008

9

Version 9.3 - July 2, 2008
Version 9.2 - May 9, 2008
Version 9.1 - December 18, 2007
Version 9.0 - November 2, 2007


2007

8

Version 8.2 - May 7, 2007
Version 8.1 - January 25, 2007
Version 8.0 - November 20, 2006


7

Version 7.2 - June 6, 2006
Version 7.1 - March 2, 2006
Version 7.0 - January 13, 2006


2006

6

Version 6.2 - September 19, 2005
Version 6.1 - July 19, 2005
Version 6.0 - May 22, 2005


2005

5

Version 5.1 - January 18, 2005
Version 5.0 - October 15, 2004


4

Version 4.2 - July 15, 2004
Version 4.1 - June 10, 2004
Version 4.0 - April 30, 2004


3

Version 3.1 - February 6, 2004
Version 3.0 - January 14, 2004


2004

2

Version 2.0.4 - September 19, 2003
Version 2.0.3 - August 14, 2003
Version 2.0.2 - June 9, 2003
Version 2.0.1 - May 15, 2003
Version 2.0 - April 2, 2003


2003

1

Version 1.2.4 - December 17, 2002
Version 1.2.3 - November 27, 2002
Version 1.2.2 - October 22, 2002
Version 1.2.1 - September 27, 2002
Version 1.2 - June 27, 2002
Version 1.1.9 - June 15, 2002
Version 1.1.8 - June 5, 2002
Version 1.1.7 - May 27, 2002
Version 1.1.6 - May 24, 2002
Version 1.1.5 - May 20, 2002
Version 1.1 - May 15, 2002
Version 1.0 - April 15, 2002


2002
Oxygen XML Editor 14.2
February 13, 2013
Version 14.2 of Oxygen XML Editor adds important features for both XML Development and XML Authoring.
On the XML development side, Oxygen completes the set of XML Schema 1.1-related features with full schema editing support and capabilities to generate XML instances and schema documentation in accordance with W3C standards.
On the XML Authoring side, Oxygen streamlines XML reviewing by adding support for highlights and a Review manager panel. Highlights help you focus on the content you need to review and the Review manager panel displays all the changes, comments and highlights from a document so you can quickly inspect and manage them.
Improvements were made for quickly finding resources in the project by searching in their content or file paths. Oxygen offers these advanced search capabilities by adding a dedicated view that supports complex text search expressions (multiple words, boolean operators, group searches, etc.), as well as XML-aware filters.
Documents from a Microsoft SharePoint server can be accessed using the Data Source Explorer view, where you can edit, check-in, or check-out resources directly.
As usual, Oxygen XML updates many components to their latest versions, and extends the API available to third-party applications.
There are changes in:
XML Schema 1.1 Support
Complete Support for XML Schema 1.1
Oxygen improved the XML Schema 1.1 support, including schema and instance validation, content completion assistance, resource dependencies, search and refactoring actions, and the schema
Design
mode. It is also possible to generate XML instances and XML Schema documentation starting from an XML Schema 1.1 file
[read more]
.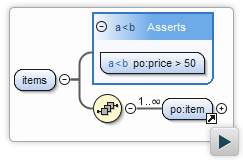 Reviewing
| | |
| --- | --- |
| The Review panel provides a simplified way of monitoring all the insertions, deletions, comments, and highlights in an XML document. This handy tool is especially useful for large teams that need to gather and manage all the edits from working on the same project. The Review panel offers a wide range of reviewing actions, as well as a search filter. | |
Review Color Highlights   [read more...]

Using the color highlight feature, you can create digital markers to emphasise important fragments in your documents. This is especially useful when you want to mark sections in your document that need additional work or the attention of others.
XML Authoring
Spell Checking: Save Learned Words at Project Level
You can define and share a list of terms with your team using a dedicated 'Dictionaries' preferences page that offers support to save learned words at project level.
Launch Audio and Video Files Referenced in the XML Content
Added support to open referenced audio and video resources in your default media player directly from DITA, DocBook, and XHTML documents.
Text Description for Links in DocBook
A link description is presented in-line for internal references which do not have text content. The text is collected from the title of the target elements.
Edit MathML Equations Using MathFlow in Eclipse
The Oxygen XML Eclipse plugin supports rendering and editing MathML equations using the commercial MathFlow products.
CJK Support in the Author Mode for Eclipse
You can input CJK text in the Author mode, using the native input methods.
Edit Table Column Specification Values Using Form Controls
Column specification properties in CALS and HTML tables can be edited directly using form controls in DITA, DocBook, and XHTML documents.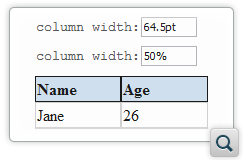 Enhanced Character Map Dialog Box
The Character Map dialog box displays a description of the inserted character when hovering over it. This description is also presented in a dedicated field, at the bottom of the dialog box.
Fast Text Searching
Search Resources by Name or Content   [read more...]

You can find resources by typing words from their content or by resource names (or even parts of their names). You also have the capability to search through comments, insertions, deletions, and highlighted content in all the resources of a project or opened DITA map. The results are available instantly. The Open/Find Resource view and the redesigned Open/Find Resource dialog box support both simple text and complex searches (boolean operator searches, XML-aware searches, group searches, etc.) The search index is automatically rebuilt when you make changes to files in your project (such as add, delete, refresh, or save resources).
CMS Integration and Connectivity
SharePoint Support
You can connect to a Microsoft SharePoint server, browse it using the Data Source Explorer view, edit, check-in, and check-out resources. The SharePoint support is available in the Oxygen XML Enterprise Edition only.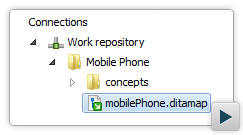 HTTP NTLMv2 Authentication
Added the possibility to connect to an HTTP server using NTML 2 authentication scheme.
Data Protocol Support
Oxygen supports rendering of images embedded with the RFC 2397 data protocol.
DITA
Opening DITA Maps from CMSs, WebDAV, or XML Databases
You can open remote DITA maps using the Open from Data Source Explorer action in the DITA Maps Manager view. You will be able to browse all the databases and CMSs you configured.
Text Description for Links
When a cross reference does not provide a description Oxygen automatically extracts one from the title of target element.
Author CSS Extensions
Support for the CSS 3 :empty Selector
Oxygen now supports the CSS 3 :empty selector in the Author mode. This makes possible to apply different styling to empty elements.
Support for the CSS 3 E:root Selector
Oxygen now supports the CSS 3 E:root selector in the Author mode. This makes possible to apply different styling to the same XML element depending on its location in the document: either root, or descendent of the root element.
Support for the CSS 3 font-face At-Rule (@font-face)
You can use the font-face at-rule to render content in the Author mode with custom loaded fonts. The fonts may be shared on a Web server so the entire team can use them.
Properties for Form Controls
Most form controls support the color property. In addition, the oxy_label function supports the background-color property.
CSS
Enhanced CSS Outline and Content Completion Assistance
The CSS Outline displays both selectors and properties. To help developers easily identify properties, specific icons mark each type of property both in the CSS Outline view and in the Content Completion Assistant.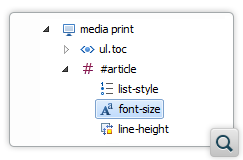 XML Databases
Added eXist 2.0 XML Database Support
Oxygen supports the eXist 2.0 Database Server.
Navigate to Attribute Definition
Fast Navigation to Attribute Definition
Oxygen offers support to navigate to the definition of an attribute in the associated schema or DTD.
Extended API
Multiple Edit Modes (Text/Grid/Author) Using the Author Component API
Using Workspace Access Plugins with the Author Component
Added the possibility to use Workspace Access plugins with the Author Component.
Identify the Context in Which a Browse CMS Operation is Invoked
Obtain the Context (Topic) for Which Defined Keys are Searched
Obtain the Clicked Node in the Author Breadcrumb Customizer
Customize the Way a Form Control is Rendered
Obtain a Link Description in the Author Mode
Create a Custom Editor Input in the Eclipse Plugin Distribution
Added an extension point called customEditorInputCreator which allows other plugins to return custom editor inputs when references are opened in the Oxygen Eclipse Plugin.
Added Access to Utility APIs in Author Component Factory
Convert Absolute Location to Editing Area Relative Location
Identify the Bounds for a Certain Callout
Scroll to a Specific Area
Component updates
Updated Saxon to Version 9.4.0.6
The Saxon 9 XSLT, XQuery and XML Schema processor from Saxonica was updated to version 9.4.0.6.
Updated Apache FOP Processor to Version 1.1
Apache FOP processor was updated to version 1.1.
Updated EpubCheck to Version 3.0
Version 3.0 of EpubCheck is included in Oxygen. EpubCheck 3.0 supports both EPUB 2.0(1) and 3.0 validation.
Updated Calabash to Version 1.0.8
The Calabash XProc processor was updated to version 1.0.8.
Updated TEI Schemas and Stylesheets
The TEI schemas and stylesheets were updated to version 2.3.0 of the schemas and version 6.26 of the TEI stylesheets.
Updated Hunspell to Version 1.3.2
The Hunspell spell checker was updated to version 1.3.2, making possible to use the latest spelling dictionaries available. Oxygen makes use of the same type of dictionaries as OpenOffice or Mozilla products.