DITA Editing
Ready-to-Use for DITA
Oxygen offers intelligent DITA editing, assisting the user with content completion, DITA specific actions, validation, and a number of predefined transformation scenarios to immediately publish DITA to PDF, WebHelp, EPUB, and other DITA output formats.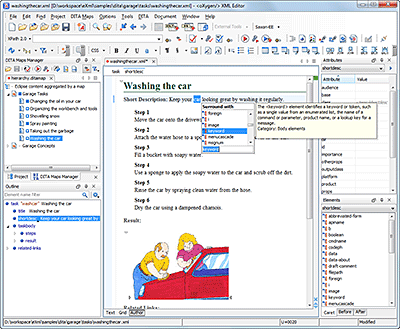 New DITA documents can be easily created by using predefined and user-defined document templates. The predefined templates cover all the standard DITA information types, including topics, tasks, concepts, composites, references, maps, and learning content.
Oxygen also includes a Fast Create Topics wizard that allows you to quickly create multiple skeleton topics at once.
The DITA action set includes operations for emphasising text, inserting references, links, lists, sections, paragraphs, and working with tables.

DITA-specific features provided in Oxygen include a visual table builder, in-place expansion of content references, link navigation, and conditional processing.
Oxygen is specialization-aware and once a DITA specialization is integrated in the bundled DITA-OT, it will immediately work in Oxygen for editing, validation, and publishing.
Multimedia Support
You can insert references to media resources (such as videos, audio clips, or embedded HTML frames) in your DITA topics. The media resources can be played directly in Author mode and in all HTML5-based outputs.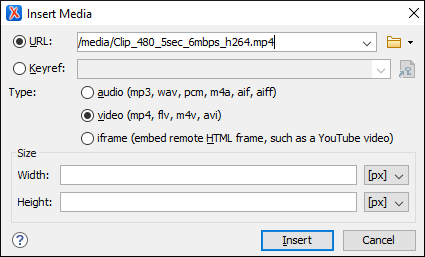 You can easily create CALS tables, join or split cells, and add or remove rows. Oxygen will transparently manage all the column specifications for you.
read more

Copy-and-Paste from Office Applications
Styled content can be inserted by copying content from Office applications (Microsoft Word, Microsoft Excel, OpenOffice.org Writer, OpenOffice.org Calc) and Web browsers (Mozilla Firefox, Microsoft Internet Explorer, Google Chrome), and pasting it in the DITA editor. The styles and general layout of the copied content (sections with headings, tables, list items, bold and italic text, hyperlinks, etc.) are preserved by the paste operation as equivalent DITA XML elements.
Discontinuous Selection
You can select multiple text ranges (discontinuous selections) or multiple elements in the Author mode for cut/copy/paste actions.