Oxygen XML Developer 14.2
Version 14.2 of Oxygen XML Developer completes the set of XML Schema 1.1-related features with full schema editing support and capabilities to generate XML instances and schema documentation in accordance with W3C standards.
Improvements were made for quickly finding resources in the project by searching in their content or file paths. Oxygen offers these advanced search capabilities by adding a dedicated view that supports complex text search expressions (multiple words, boolean operators, group searches, etc.), as well as XML-aware filters.
Documents from a Microsoft SharePoint server can be accessed using the Data Source Explorer view, where you can edit, check-in, or check-out resources directly.
As usual, Oxygen XML updates many components to their latest versions, and extends the API available to third-party applications.
There are changes in:
XML Schema 1.1 Support
Complete Support for XML Schema 1.1
Oxygen improved the XML Schema 1.1 support, including schema and instance validation, content completion assistance, resource dependencies, search and refactoring actions, and the schema
Design
mode. It is also possible to generate XML instances and XML Schema documentation starting from an XML Schema 1.1 file
[read more]
.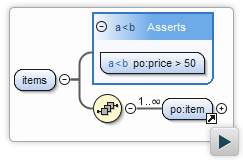 Fast Text Searching
You can find resources by typing words from their content or by resource names (or even parts of their names). You also have the capability to search through comments, insertions, deletions, and highlighted content in all the resources of a project or opened DITA map. The results are available instantly. The Open/Find Resource view and the redesigned Open/Find Resource dialog box support both simple text and complex searches (boolean operator searches, XML-aware searches, group searches, etc.) The search index is automatically rebuilt when you make changes to files in your project (such as add, delete, refresh, or save resources).
CMS Integration and Connectivity
SharePoint Support
You can connect to a Microsoft SharePoint server, browse it using the Data Source Explorer view, edit, check-in, and check-out resources. The SharePoint support is available in the Oxygen XML Enterprise Edition only.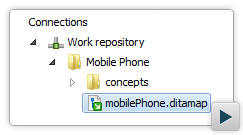 HTTP NTLMv2 Authentication
Added the possibility to connect to an HTTP server using NTML 2 authentication scheme.
Data Protocol Support
Oxygen supports rendering of images embedded with the RFC 2397 data protocol.
CSS
Enhanced CSS Outline and Content Completion Assistance
The CSS Outline displays both selectors and properties. To help developers easily identify properties, specific icons mark each type of property both in the CSS Outline view and in the Content Completion Assistant.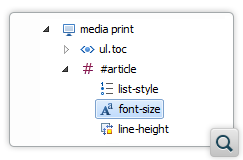 XML Databases
Added eXist 2.0 XML Database Support
Oxygen supports the eXist 2.0 Database Server.
Navigate to Attribute Definition
Fast Navigation to Attribute Definition
Oxygen offers support to navigate to the definition of an attribute in the associated schema or DTD.
Component updates
Updated Saxon to Version 9.4.0.6
The Saxon 9 XSLT, XQuery and XML Schema processor from Saxonica was updated to version 9.4.0.6.
Updated Apache FOP Processor to Version 1.1
Apache FOP processor was updated to version 1.1.
Updated EpubCheck to Version 3.0
Version 3.0 of EpubCheck is included in Oxygen. EpubCheck 3.0 supports both EPUB 2.0(1) and 3.0 validation.
Updated Calabash to Version 1.0.8
The Calabash XProc processor was updated to version 1.0.8.
Updated TEI Schemas and Stylesheets
The TEI schemas and stylesheets were updated to version 2.3.0 of the schemas and version 6.26 of the TEI stylesheets.
Updated Hunspell to Version 1.3.2
The Hunspell spell checker was updated to version 1.3.2, making possible to use the latest spelling dictionaries available. Oxygen makes use of the same type of dictionaries as OpenOffice or Mozilla products.