2021

23.1

Version 23.1 - March 4, 2021

2020

23

Version 23.0 - November 19, 2020

22.1

Version 22.1 - May 19, 2020

22

Version 22.0 - February 12, 2020

2019

21.1

Version 21.1 - May 23, 2019

21

Version 21.0 - February 22, 2019

2018

20.1

Version 20.1 - June 15, 2018

20

Version 20.0 - March 16, 2018

2017

19

Version 19.1 - September 29, 2017
Version 19.0 - April 5, 2017


2016

18

Version 18.1 - October 18, 2016
Version 18.0 - April 21, 2016


2015

17

Version 17.1 - October 20, 2015
Version 17.0 - May 5, 2015


2014

16

Version 16.1 - October 7, 2014
Version 16.0 - May 20, 2014


2013

15

Version 15.2 - January 22, 2014
Version 15.1 - October 7, 2013
Version 15.0 - June 7, 2013


2012

14

Version 14.2 - February 13, 2013
Version 14.1 - October 19, 2012
Version 14.0 - June 27, 2012


2011

13

Version 13.2 - January 12, 2012
Version 13.1 - October 26, 2011
Version 13.0 - August 29, 2011


2001
Oxygen XML Developer 17.0
Related Versions: 17.017.1
May 5, 2015
Oxygen XML Developer version 17 sets the highest standard for XML development. It comes with important functionality updates and focuses on design to make your work not only productive, but also enjoyable.
Retina/HiDPI icons make everything look crisp and beautiful while the graphite color theme gives you a complete new view of Oxygen. Toolbars are configurable down to action level and they put you in full control of your work environment.
Oxygen not only reports errors, it also helps you automatically correct them through the Quick Fix support. The new XML Refactoring tool extends the power of the Find/Replace action across multiple files by applying XML-aware operations through a user-friendly interface.
XML developers can take advantage of the XQuery and embedded XPath formatting feature. They can also use Oxygen XML Developer with the latest versions of MarkLogic and eXist XML databases, Saxon XSLT, XQuery, XML Schema engines, and XML Calabash XProc processor. The SVN client has also been updated to include a variety of improvements and bug fixes.
There are changes in:
XML Quick Fixes
Schematron Quick Fixes
Schematron allows you to enforce business rules on XML documents and to communicate issues in a language the users understand, as the error messages are written by the schema developer rather than being generated by the validation engine. Similar to how a spell checking engine shows possible correct words that should replace a misspelled word, the schema developer can provide one or more possible actions that fix the reported problem. Oxygen presents these actions through the Quick Fix support, allowing users to correct an issue by selecting one of the proposed solutions.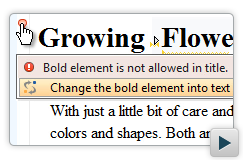 XML Quick Fixes when Validating Against Relax NG Schemas
The Quick Fix support was updated to provide actions for correcting various errors that appear in XML documents validated against Relax NG XML or Compact schemas, such as adding missing attributes, removing invalid elements, and more.
XML Refactoring
XML Refactoring Tool
The XML Refactoring tool assists you with various refactoring tasks that cannot be resolved with a traditional Find/Replace operation. It helps you manage the structure of your XML documents and it includes a variety of operations, such as renaming, deleting, and inserting elements and attributes across a set of files. It is available in the Tools menu, the Project and DITA Maps Manager contextual menu.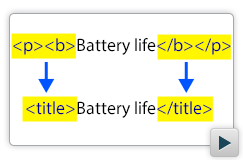 Custom XML Refactoring Operations
For more complex projects, if the provided refactoring operations are not sufficient, Oxygen Enterprise edition users can create their own custom refactoring operations and share them with other team members.
User Interface
Customizable Toolbars
The toolbars in Oxygen can now be customized at action level and you can decide the exact set of actions that are presented by each toolbar. Some of the toolbars have also been reorganized to better group related actions.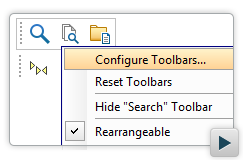 Graphite Color Theme
If you prefer dark backgrounds, you can use the new graphite color theme or use it as a starting point for setting your preferred colors. You can select it from the Theme drop-down menu found in the Appearance preferences page.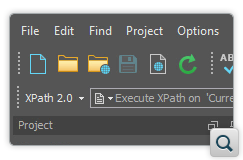 Improved HiDPI and Retina Support
Oxygen now has a set of new icons that are more visually appealing, crisp, and specially tuned for HiDPI and Retina displays.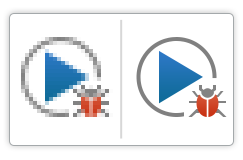 XQuery / XPath
Formatting and Indenting XQuery Documents
XQuery files (version 1.0, 3.0 and XQuery Update 1.0) can be properly pretty printed, producing neater and consistent formatted content.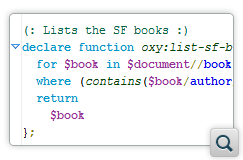 Formatting and Indenting Embedded XPath Expressions
When formatting XSLT, XSD, and Schematron documents, the values of the attributes that accept XPath expressions are properly pretty printed.
Other
Component Updates