2024

26.0

Version 26.0 - October 11, 2023

25.1

Version 25.1 - March 16, 2023

2023

25.0

Version 25.0 - October 13, 2022

24.1

Version 24.1 - March 7, 2022

2022

24.0

Version 24.0 - October 18, 2021

23.1

Version 23.1 - March 4, 2021

2021

23.0

Version 23.0 - November 19, 2020

22.1

Version 22.1 - May 19, 2020

22.0

Version 22.0 - February 12, 2020

2020

21.1

Version 21.1 - May 23, 2019

21.0

Version 21.0 - February 22, 2019

2019

20.1

Version 20.1 - June 15, 2018

20.0

Version 20.0 - March 16, 2018

2018

19.0

Version 19.1 - September 29, 2017
Version 19.0 - April 5, 2017


2017

18.0

Version 18.1 - October 18, 2016
Version 18.0 - April 21, 2016


2016

17.0

Version 17.1 - October 20, 2015
Version 17.0 - May 5, 2015


2015

16.0

Version 16.1 - October 7, 2014
Version 16.0 - May 20, 2014


2014

15.0

Version 15.2 - January 22, 2014
Version 15.1 - October 7, 2013
Version 15.0 - June 7, 2013

What's New in Oxygen XML Webhelp 26.0
October 11, 2023
Oxygen XML WebHelp version 26.0 is the latest release for the modern XML publishing system that is used to produce stylish WebHelp output from DITA source content. This version introduces some exciting advanced search features that were implemented in conjunction with the upcoming release of Oxygen Feedback 4.0. Oxygen Feedback is a modern comment management platform that allows your community to easily interact with and provide feedback on your content and it has been specifically designed to seamlessly integrate with Oxygen XML WebHelp. The advanced search features listed below will be available soon, once Oxygen Feedback 4.0 is released.
Oxygen Feedback Search Engine Enhancements
Semantic Search
A Semantic search is a data searching technique that delivers more accurate results by understanding the real intent behind the search and providing an enhanced user experience. Oxygen XML WebHelp now supports semantic searches to help produce more relevant search results. This feature requires an integration with the OpenAI platform by specifying an API key.
Faceted Search
A
Faceted search
allows users to refine their search results by applying multiple filters that correspond to different properties or "facets" of the information being sought. WebHelp users can select one or more of these facets, and the search engine will return only the results that match all the selected facets. For more details, see
User Guide Topic: How to Configure Faceted Search in WebHelp Output
.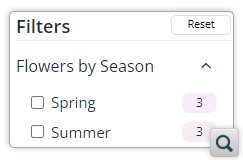 Search or Filter Topics by Labels
A new
Insert Label
action is available in Oxygen that can be used to insert a special label keyword in the prolog of a topic. These labels are then displayed in the WebHelp Responsive output. They are useful when performing searches in the output. For example, you can easily search for topics with the same label by simply clicking on the label presented in the WebHelp Responsive output. For more details, see
User Guide Topic: How to Add Searchable Labels in WebHelp Output
.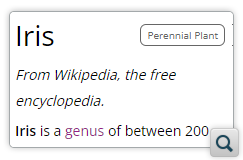 Topic Breadcrumb Now Displayed in the Search Results Page
When viewing search results, the breadcrumb now displays the ancestor topics of a selected topic. This feature helps you understand the topic's context, particularly when the search results appear to show duplicates. In reality, these duplicates are actually similar topics located in different sections of the map.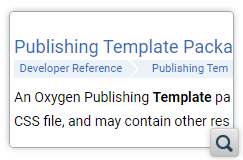 Advanced Search Queries
Oxygen XML WebHelp integrates the Oxygen Feedback Search Engine, which supports an advanced query syntax that allows users to create more complex, flexible, and useful queries that generate more precise search results. Some examples of these supported advanced queries include phrase searches, regular expression searches, and proximity searches.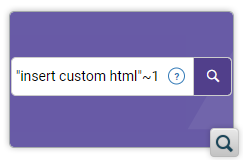 Component Update
Lucene 9.7.0
Updated the Lucene libraries to version 9.7.0.
Deprecated Support for DocBook WebHelp Classic
The DocBook WebHelp Classic transformation scenario has been marked as deprecated and may be removed in a future major version.