2024

26.0

Version 26.0 - October 11, 2023

25.1

Version 25.1 - March 16, 2023

2023

25.0

Version 25.0 - October 13, 2022

24.1

Version 24.1 - March 7, 2022

2022

24.0

Version 24.0 - October 18, 2021

23.1

Version 23.1 - March 4, 2021

2021

23.0

Version 23.0 - November 19, 2020

22.1

Version 22.1 - May 19, 2020

22.0

Version 22.0 - February 12, 2020

2020

21.1

Version 21.1 - May 23, 2019

21.0

Version 21.0 - February 22, 2019

2019

20.1

Version 20.1 - June 15, 2018

20.0

Version 20.0 - March 16, 2018

2018

19.0

Version 19.1 - September 29, 2017
Version 19.0 - April 5, 2017


2017

18.0

Version 18.1 - October 18, 2016
Version 18.0 - April 21, 2016


2016

17.0

Version 17.1 - October 20, 2015
Version 17.0 - May 5, 2015


2015

16.0

Version 16.1 - October 7, 2014
Version 16.0 - May 20, 2014


2014

15.0

Version 15.2 - January 22, 2014
Version 15.1 - October 7, 2013
Version 15.0 - June 7, 2013

What's New in Oxygen XML Webhelp 19.1
Oxygen XML WebHelp version 19.1 is the latest release for the modern web publishing system. This release includes a variety of improvements to help make your WebHelp output even more responsive and intuitive for your audience. For this version, we focused much of our efforts on enhancing various components in the WebHelp Responsive system to make it easier for the end user to navigate through your documentation.
WebHelp Responsive
Side TOC Component Improvements
The side TOC component received a lot of improvements to make it easier to navigate through the topics in your documentation. It now includes expand/collapse buttons that you can use to see the child topics for a particular topic. Also, when you hover over a topic, a short description is now displayed in a tooltip. Furthermore, you can now control whether the side TOC will only present topics from the active chapter or all topics from your entire publication.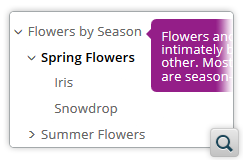 WebHelp Menu is Created Dynamically
The WebHelp menu was redesigned so that it is created dynamically when the user hovers over a certain topic. This reduces the size of the generated HTML files and increases the loading speed.
Automatic Permanent Links
Automatic permanent links are generated for topics that contain inner sub-sections. These links are useful when you want to share an exact section from your documentation with others.
Index Terms Page Redesigned
The index page was redesigned and improved. An alphabet that contains the first letter of the documentation index terms is now generated at the top of the index page. Each letter represents a link to a specific indices section. More over, the indexes are presented in multiple columns to make it easier to read this page.
Next/Previous Navigation Buttons
Next and Previous navigational buttons
are generated depending on the
collection-type="sequence"
attribute that is set on the topic references in your DITA map. If you don't want to set this attribute on all
topicref
elements, you can instead use the
webhelp.default.collection.type.sequence
parameter to set the default value for the
collection-type
attribute to
sequence
.