2021

23.1

Version 23.1 - March 4, 2021

2020

23

Version 23.0 - November 19, 2020

22.1

Version 22.1 - May 19, 2020

22

Version 22.0 - February 12, 2020

2019

21.1

Version 21.1 - May 23, 2019

21

Version 21.0 - February 22, 2019

2018

20.1

Version 20.1 - June 15, 2018

20

Version 20.0 - March 16, 2018

2017

19

Version 19.1 - September 29, 2017
Version 19.0 - April 5, 2017


2016

18

Version 18.1 - October 18, 2016
Version 18.0 - April 21, 2016


2015

17

Version 17.1 - October 20, 2015
Version 17.0 - May 5, 2015


2014

16

Version 16.1 - October 7, 2014
Version 16.0 - May 20, 2014


2013

15

Version 15.2 - January 22, 2014
Version 15.1 - October 7, 2013
Version 15.0 - June 7, 2013


2001
What's New in Oxygen XML Webhelp 19.0
Related Versions: 19.019.1
April 5, 2017
Oxygen XML WebHelp version 19.0 is the latest release for the modern web publishing system. This release includes a variety of new features and improvements to help make your WebHelp output even more responsive and intuitive for your audience. For this version, we focused much of our efforts on improving the search mechanism to not only make it easier for your audience to use the feature, but also to find the content they need faster and more accurately.
WebHelp
Search Auto-Completion
Keywords and documentation titles are displayed while you are typing in the
search field in WebHelp output
. This improvements helps you to construct better search queries.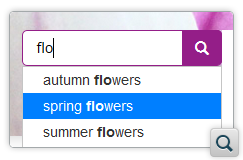 Phrase Search Support
The
WebHelp search engine
was improved by adding the ability to do phrase searches. By entering a phrase inside quotes, you can search for documents that contain that exact phrase, rather than single keywords.
Improved Sorting for Search Results
Show Missing Terms for Search Results
When you search for multiple terms, some of them may not appear in some of the results. The
WebHelp search results
now display the terms that were not found in that particular document next to each result.
Search Results Pagination
The
results
presented after a search action are now divided and presented in multiple pages.
Moved from WebHelp Mobile to WebHelp Responsive
The
WebHelp Mobile
publishing output for DITA and DocBook has been deprecated because of the better alternative provided by the new
WebHelp Responsive system
, designed for flexibility and modern features.