2021

23.1

Version 23.1 - March 4, 2021

2020

23

Version 23.0 - November 19, 2020

22.1

Version 22.1 - May 19, 2020

22

Version 22.0 - February 12, 2020

2019

21.1

Version 21.1 - May 23, 2019

21

Version 21.0 - February 22, 2019

2018

20.1

Version 20.1 - June 15, 2018

20

Version 20.0 - March 16, 2018

2017

19

Version 19.1 - September 29, 2017
Version 19.0 - April 5, 2017


2016

18

Version 18.1 - October 18, 2016
Version 18.0 - April 21, 2016


2015

17

Version 17.1 - October 20, 2015
Version 17.0 - May 5, 2015


2014

16

Version 16.1 - October 7, 2014
Version 16.0 - May 20, 2014


2013

15

Version 15.2 - January 22, 2014
Version 15.1 - October 7, 2013
Version 15.0 - June 7, 2013


2001
Oxygen XML Webhelp 16.0
Related Versions: 16.016.1
May 20, 2014
Oxygen XML WebHelp has been updated to work with DITA OT 1.8.4. Also, you can customize the style of the Oxygen WebHelp output that can be obtained from DITA and DocBook to look exactly as you want using the WebHelp skin builder.
As usual, this version contains lots of small improvements and bug fixes.
WebHelp Skin Builder
DITA Support
DITA OT 1.8.4
The DITA Open Toolkit was updated to version 1.8.4.
Support for Editing DITA Table Properties
Properties for cells, rows, columns or the entire table can be customized using the contextual Table Properties action. This allows setting vertical and horizontal alignment, column and row separators, conversions between header, body and footer row types or configuring the table frame property. CALS, Simple Table and Choice Table formats are supported.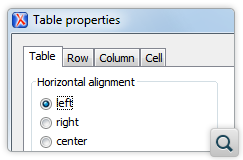 DITAVAL Content Completion Assistant
When editing a DITAVAL file, the Content Completion Assistant displays the profiling attribute names and possible values.
Profiling-Aware DITA Key Resolution
When you work with conditional content you can focus on a specific deliverable by enabling a profiling condition set. Some keys may be conditionally defined and Oxygen will take into account the profiling condition set that filters out some of the content when gathering the key definitions.
Component Updates