Oxygen XML Author 16.1
Related Versions: 16.016.1
October 7, 2014
Version 16.1 of Oxygen XML Author makes the Quick Fixes functionality available in the Author visual editing mode, thus actions such as adding a missing attribute or deleting an unexpected element are offered to the user to solve validation issues.
The XML authoring mode received a number of improvements to the table support, track changes functionality, generic editing, as well as to the DITA specific actions.
The Eclipse plugin version of Oxygen XML Author was updated to support Eclipse 4.4, the SVN support was updated to work with Apache Subversion 1.8, and many component libraries were updated to their latest stable versions.
There are changes in:
XML
XML Quick Fixes
The Quick Fix support helps you resolve different errors that appear in an XML document by proposing automatic fixes for common problems such as missing required attributes or invalid elements. This feature is only available for XML documents validated against an XML Schema.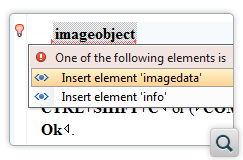 CSS
XSLT
SharePoint Integration
Visual XML Editing
Track Surround Changes
If Change Tracking support is enabled, all content surround operations are marked as changes.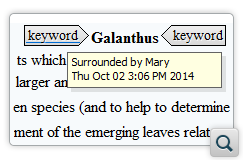 Rectangular Selection in Tables
You can select rectangular blocks of cells in tables. You can then use this selection to edit properties or delete the content of the selected cells.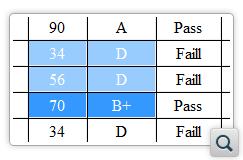 Show Location Tooltip on Mouse Move
When editing XML documents in a visual environment you might find it difficult to position the cursor between certain tags that do not have a visual representation. To help you, Oxygen displays a semi-transparent preview of the Position Information Tooltip when hovering between two elements.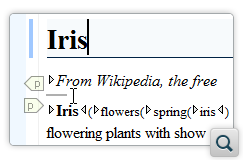 'Media' Rules for Windows High Contrast Themes
Two application-specific 'media' rules allow you to add specific styles for white-background and black-background high contrast Windows themes when editing in the Author visual editing mode.
Paste as Text Action
The Paste as Text action pastes the clipboard content, ignoring any structure or styling markup.
Insert Symbols in a Form Control
You can use the Characters Map dialog box to insert symbols in embedded form controls.
The Width Property is Available for a Number of Form Controls
The width property is now supported by the text field, text area, URL chooser, date picker, combo box and pop-up form controls. You can specify the width of any of these form controls by setting them to absolute, relative or percentage values to achieve a better looking final layout.
Enable Button Form Controls in Read-Only Context
You can use the enableReadOnlyContext to enable buttons or groups of buttons in read-only contexts. This allows you, for example, to execute a utility action that does not modify the context.
WebHelp
DITA Support
Option to Batch Validate Referenced DITA Resources
An option in the Validate and Check for Completeness action allows you to batch validate DITA files referenced in the DITA map. This means that DITA files can be validated using schemas from the associated validation scenarios.
Easier Way to Perform a Conref Push
The Insert Content Reference dialog box provides an easier way to mark or replace referenced content.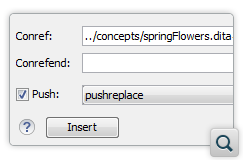 Reorganized DITA Maps Manager Contextual Menu
The DITA Maps Manager view offers a simplified and more ergonomic contextual menu.
Navref Element Support
The DITA Maps Manager view provides a dedicated action for inserting navref elements, plus a specific icon for rendering them in the DITA Map tree.
Action to Insert New Topic in a DITA Map Edited in Author Mode
When editing DITA Maps in Author mode, an action is available to create and insert a new topic at the cursor position.
Eclipse Plugin
Other
SVN Client
Component Updates
API