2024

6.0

Version 6.0 - November 1, 2023

5.1

Version 5.1 - April 19, 2023

2023

5.0

Version 5.0 - May 25, 2022

2022

4.1

Version 4.1 - July 12, 2021

4.0

Version 4.0 - March 4, 2021

2021

3.0

Version 3.0 - July 3, 2020

2.0

Version 2.0 - February 12, 2020

2020

1.1

Version 1.1 - February 22, 2019
What's New in Oxygen Content Fusion 6.0
November 1, 2023
Oxygen Content Fusion 6.0 introduces a lot of interesting and substantial improvements for the online collaboration platform designed to improve the DITA documentation review and publishing processes.
One of the most interesting new features added in this version is the new Projects feature, which allows you to manage a DITA project hosted in a Git repository while maintaining full compatibility with existing workflows and tools. Authors can create review tasks inside a project and reviewers' feedback is tracked on a dedicated branch in the Git repository. New publishing features help authors build WebHelp and PDF outputs and the Oxygen Styles Basket has been integrated to make it very easy to customize the output using CSS styling. Review task owners can now close a review task to prevent others from making changes while integrating the reviewers' feedback. Numerous enhancements were also made to the Content Fusion user interface to make navigation easier and workflows more efficient. Bug fixes and security enhancements were also implemented, and various internal components were updated.
Projects
Manage DITA Projects Hosted in Git Repositories
The new Projects feature provides a way for authors to manage DITA projects hosted in Git repositories. A Content Fusion project allows authors to create and manage review tasks within the project, define Content Fusion Publications as DITA map/DITAVAL pairs, and build Content Fusion Deliverables that enable publishing DITA content to Webhelp and PDF.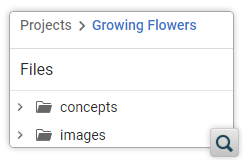 Compatibility with Existing Workflows and Tools
DITA project configuration changes and merged review tasks are automatically synchronized between Content Fusion and your Git repository. This means that you can still use the Git repository from any client application or Continuous Integration job.
Create and Merge Review Tasks Inside Projects
A Content Fusion project has a default branch in the Content Fusion repository that mirrors the corresponding Git branch from the upstream remote repository. This allows authors to create review tasks inside a Content Fusion project quickly and using a minimum amount of storage, review tasks being just additional branches in the Content Fusion local repository. All authors that have access to the project are able to see all the review tasks created within that project.
After closing a review task that was created within a project, the task owner has access to an action to integrate the changes into the project's default branch using the built-in file comparison/merge tool. This tool allows you to visually spot the differences and choose which changes to merge.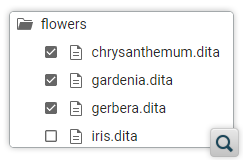 Feedback Tracked in Git Repository
Suggestions or changes made by reviewers on a review task created within a project are tracked on a dedicated branch in the Content Fusion Git repository. When a task is finished, the changes are merged and pushed to the upstream remote repository.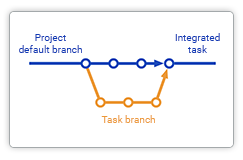 Private Projects
Projects can be configured to be private, making it possible for you to share them only with specific collaborators. When creating a project in the Content Fusion interface, there is a Visibility option that can be set as Public or Private. Private projects are only accessible to select individuals who are added on the Members page for the particular project.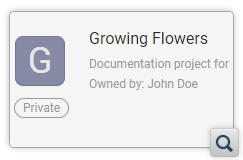 Publishing
Build WebHelp and PDF Deliverables
The new publishing features within Content Fusion projects allow you to configure the process for transforming the DITA content into WebHelp and PDF deliverables. Now, you can build the transformations directly in Content Fusion and you can even configure automatic builds. Access to the transformation log file is available both during the build process as well as afterwards, thus allowing you to debug any transformation issues.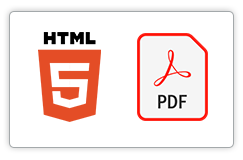 Built-In Publishing Templates
When configuring a deliverable, you can select from a variety of built-in publishing templates to easily customize the appearance of the WebHelp and PDF output.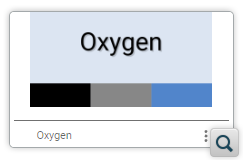 Oxygen Styles Basket Integration
You can duplicate and edit existing templates to customize various aspects of the layout and style of the output. This is done through a built-in integration of the Oxygen Styles Basket, which is a simple web-based tool that makes it very easy to visually customize the WebHelp and PDF output.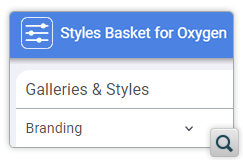 Deploy Deliverables on a Hosting Platform
Once a deliverable has been produced, you can download and deploy it on a third-party hosting platform.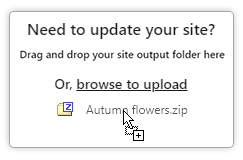 User Interface Enhancements
New Navigation Features
The Content Fusion user interface was enhanced to make navigation easier and workflows more efficient by providing actions in the top stripe, a new navigation stripe on the left side of the interface, and a breadcrumb in the main area that can be used to navigate to previous pages.
Review Task Workflow Improvements
Uninterrupted Integration of Reviewer's Feedback
During the review process, you now have the ability to integrate changes into your documentation project undisturbed. To facilitate this workflow, we have introduced the Close Review button. This feature enables you to lock the task, preventing reviewers from making changes. It allows you to focus on addressing previously received feedback and making the necessary modifications without interruptions, ensuring a seamless integration of changes into your Content Fusion project. Should you require additional input or feedback, you can easily reopen the review, making the task editable to receive further suggestions.
Visual Editor
Updated Oxygen XML Web Author
Markdown Support
Markdown documents can be added to a review task and they can be opened as read-only so that reviewers can see the content directly in the visual editor.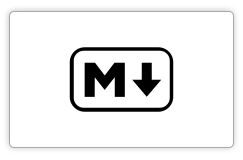 Licensing and User Roles
New Licensing Model Based on User Roles
The license for Content Fusion 6.0 covers a configurable number of user-based licenses for Authors and predefined packages of floating licenses for Subject matter experts (SME). Authors have access to projects and publishing-related features, while SMEs only have access to review tasks. An administrator can configure user roles in a new Users Management tab within the Content Fusion Enterprise Administration page according to the limits imposed by the license key.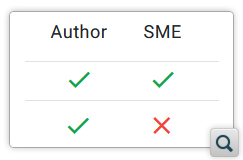 Component Updates
Apache Shiro 1.12
Updated the Apache Shiro library to version 1.12.
Transport Layer Security v1.3 Support
Content Fusion has been updated to include support for TLS v1.3. Note that support for older versions, namely v1.0 and v1.1, has been removed. As a result, Content Fusion now exclusively supports TLS v1.2 and TLS v1.3.