Events Tekom/TCWorld Conference 2017
October 24-26, 2017
Stuttgart, Germany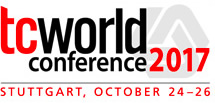 Visit the Syncro Soft / Oxygen XML Editor stand (2/F03) in the exhibition area where we will demonstrate the Oxygen XML software product suite (including the latest developments) and happily answer your questions. Attend the tool presentations hosted by Oxygen XML Editor members and the DITA Reuse Strategies session in the conference.
Presentations
DITA Reuse Strategies
Radu Coravu, Syncro Soft
Enforce Style Guide Rules for Technical Documentation
Nadolu Octavian, Syncro Soft
Getting Started with DITA and Oxygen
Alex Jitianu, Syncro Soft
Integrate Collaboration into your Workflow
George Bina, Syncro Soft
Cost Effective Solutions for Technical Documentation
Radu Coravu, Syncro Soft
If you would like to arrange a meeting with us, let us know at . We are looking forward to meeting you!