Edit online
Concurrent Editing
Oxygen XML Web Author offers a feature that provides the ability for authoring teams to edit and review content concurrently. You can share your editing session and then send a link to other collaborators and then you and your colleagues can edit and review the same document simultaneously.
To initiate a shared editing session, use the

Share Session toolbar button. This opens the first window of the Share Editing Session dialog box. It provides some information, and after clicking Share, the second window of the dialog box is displayed.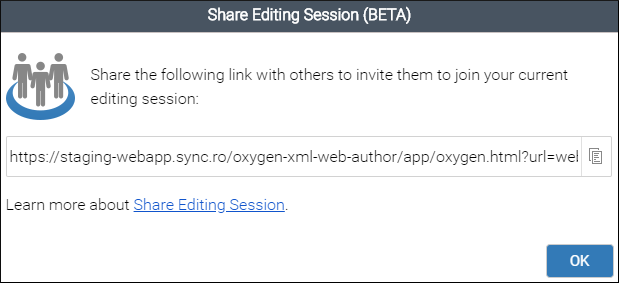 This is where you can retrieve a link that you can send to other collaborators. While the session is shared, other users can join and each user can see the changes made by others, as well as their own modifications, in real time.

The person who originally shared the session is the only one who can save the document and the concurrent editing session continues as long as that person keeps the document open.
Note:
The

Share Session
action is only present for some of the built-in connectors (Git and WebDAV).