Spell Checking in Multiple Files
The
Check Spelling in Files
action allows you to check the spelling on multiple local or remote documents. This action is available in:
the menu;
the contextual menu of the

Project

view

.
The spelling corrections are displayed in
the

Results

view
, that allows you to group the reported errors as a tree with two levels.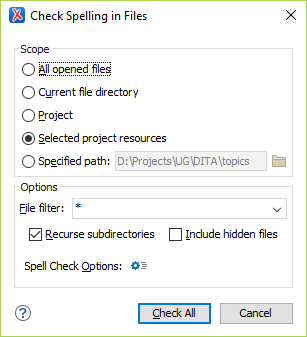 Check Spelling in Files Dialog
The following scopes are available:
You can also choose a file filter, decide whether to recurse subdirectories or process hidden files.
The spell checker processor uses the options available in the Spell Check preferences panel .