<oXygen/> XML Editor can generate XML Schema Documentation in HTML format, either as a single file, or as a collection of files, grouping components either by namespace or schema location.
The documentation readers are able to keep in view what they consider relevant from the documentation by using the floating control from the right side of the page. All the sections from the HTML page that are describing the schema components can be expanded or collapsed. Note that clicking the symbols representing references makes the browser navigate to the reference target.
You can change the aspect of the HTML pages by modifying the associated CSS file.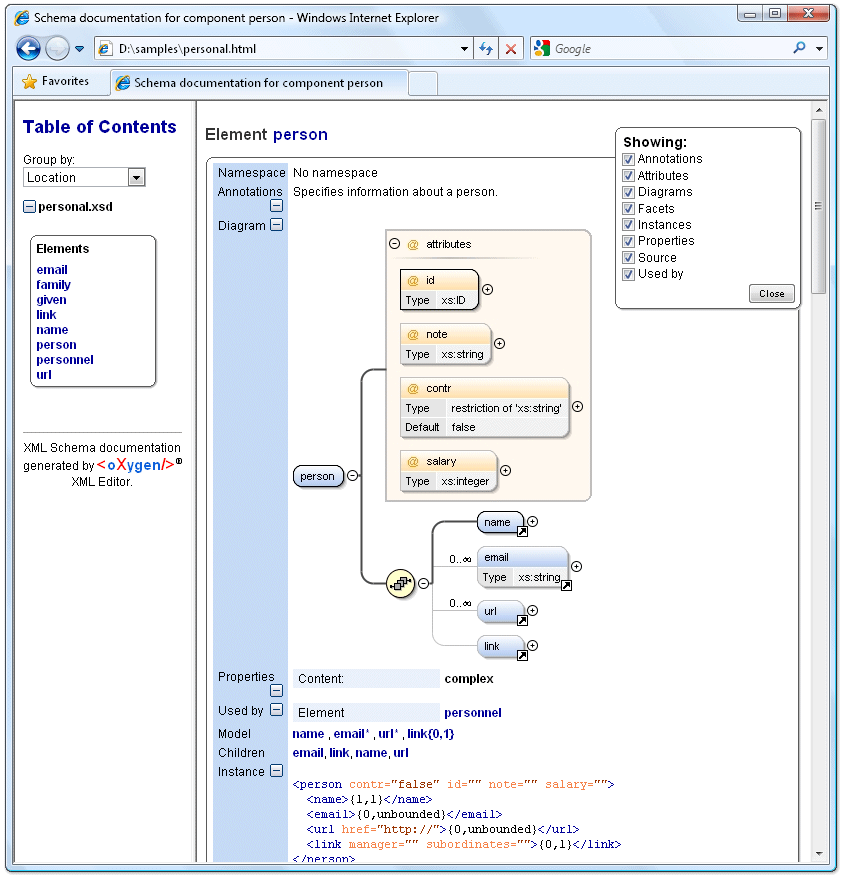 Other screenshots:
WYSIWYG XML Editor
Document Type Toolbar Customization
XML Grid Editor
Oxygen XML Editor in Japanese
The Tree Editor
Oxygen XML Author
WYSIWYG DITA editor
WYSIWYG DocBook editor
WYSIWYG TEI editor
WYSIWYG XHTML editor
Visual XML Schema Diagram Editor
Visual XML Schema Editor
Logical Model View
Visual Relax NG Schema Editor
Logical Model View
XML Diff
Comparing Directories
XSLT Editor
XML Schema Documenation in HTML format
Database Perspective
Documentum CMS Support
SVN Client
Editing OOXML files
Comparing OOXML files
Editing ODF files
ODF file templates
Comparing ODF files
EPUB Editor
Comparing ODF files
A Custom Layout for Views
A Custom Layout for Editors
Print Preview
XSLT debugger perspective